Category: Fetal Bovine and Other Sera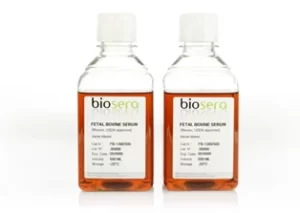 Fetal Bovine Serum (FBS) is derived from coagulated whole blood, collected from the fetus by cardiac puncture. The blood is immediately centrifuged and the serum is frozen for transfer to our treatment facilities. Upon receipt at the processing plant, the serum is thawed, tested for acceptability, collected and passed through three sterilization filters of 100 nm (0.1 μm). The serum is bottled by an asceptic filling process.
For all our batches, we have complete traceability. The labeling system is computerized and designed for clarity from batch to batch. Each batch is monitored throughout processing and production to final packaging. The geographical origin is indicated on the Certificate of Analysis which accompanies each delivery of fetal bovine serum.
All sera are rigorously tested for sterility, mycoplasmas, viruses (BVD, IBR and PI3). Each batch is also tested for its ability to nuture cell growth in vitro, plating efficiency and cloning efficiency on the following cell lines: HeLa, L929, SP2 / O-AG14, MRC-5. Certified and specially certified sera are subjected to additional tests including endotoxin, chemical components, protein electrophoresis and radial immunodiffusion.
Donors of European origin are tested for BSE before treatment in accordance with European Regulation 999/2001. 
Code: FB-1001
Product: Fetal Bovine Serum (FBS) South America
Volume: 100 ml/500 ml
Sterility: Sterile-filtered
Storage: -20°C
State: Frozen
Shelf Life: 60 months
| Size: | Cat Number : |
| --- | --- |
| 100 ml | FB-1001/100 |
| 500 ml | FB-1001/500 |
Code: FB-1003
Product: Fetal Bovine Serum (FBS) South Africa
Volume: 100 ml/500 ml
Sterility: Sterile-filtered
Storage: -20°C
State: Frozen
Shelf Life : 60 months
| Size: | Cat Number : |
| --- | --- |
| 100ml | FB-1003/100 |
| 500ml | FB-1003/500 |
Code: FB-1280
Product: Fetal Bovine Serum (FBS) French
Volume: 100 ml/500 ml
Sterility: Sterile-filtered
Storage: -20°C
State: Frozen
Shelf Life: 60 months
| Size: | Cat Number : |
| --- | --- |
| 100ml | FB-1280/100 |
| 500ml | FB-1280/500 |
Code: FB-1061
Product: Fetal Bovine Serum (FBS) Dominican Republic
Volume: 100 ml/500 ml
Sterility : Sterile-filtered
Storage : -20°C
State : Frozen
Shelf Life : 60 months
| Size: | Cat Number : |
| --- | --- |
| 100ml | FB-1061/100 |
| 500ml | |
Code: FB-1285
Product: Fetal Bovine Serum (FBS) Ireland
Volume: 100 ml/500 ml
Sterility: Sterile-filtered
Storage: -20°C
State: Frozen
Shelf Life : 60 months
| Size: | Cat Number : |
| --- | --- |
| 100ml | FB-1285/100 |
| 500ml | |
Code: FB-1380
Product: Fetal Bovine Serum (FBS) Japan
Volume: 100 ml/500 ml
Sterility: Sterile-filtered
Storage: -20°C
State: Frozen
Shelf Life : 60 months
| Size: | Cat Number : |
| --- | --- |
| 100ml | FB-1380/100 |
| 500ml | |
Code: FB-1370
Product: Fetal Bovine Serum (FBS) Australia, USDA approved
Volume: 100 ml/500 ml
Sterility : Sterile-filtered
Storage: -20°C
State: Frozen
Shelf Life : 60 months
| Size: | Cat Number : |
| --- | --- |
| 100ml | FB-1370/100 |
| 500ml | |
Code: FB-1360
Product: Fetal Bovine Serum (FBS) Mexico, USDA approved
Volume: 100 ml/500 ml
Sterility: Sterile-filtered
Storage: -20°C
State: Frozen
Shelf Life : 60 months
| Size: | Cat Number : |
| --- | --- |
| 100ml | FB-1360/100 |
| 500ml | |
Code: FB-1350
Product: Fetal Bovine Serum (FBS) USA
Volume: 100 ml/500 ml
Sterility: Sterile-filtered
Storage: -20°C
State: Frozen
Shelf Life : 60 months
| Size: | Cat Number : |
| --- | --- |
| 100ml | FB-1350/100 |
| 500ml | |
Code: FB-1058
Product: Fetal Bovine Serum (FBS) Uruguay
Volume: 100 ml/500 ml
Sterility: Sterile-filtered
Storage: -20°C
State: Frozen
Shelf Life: 60 months
| Size: | Cat Number : |
| --- | --- |
| 100ml | FB-1058/100 |
| 500ml | |
Code: FB-1345
Product: Fetal Bovine Serum (FBS) Central America Origin, USDA approved
Volume: 100 ml/500 ml
Sterility: Sterile-filtered
Storage: -20°C
State: Frozen
Shelf Life: 60 months
| Size: | Cat Number : |
| --- | --- |
| 100ml | FB-1345/100 |
| 500ml | |